Apps on the mobile phone or on the tablet offer a wide range of opportunities for classroom use. From individual work to team competitions, these popular and easy-to-use gadgets can foster motivation and offer personalized information about the learning process both to the teacher and to students.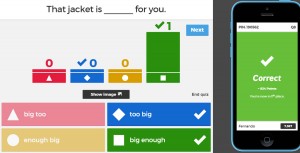 Two of these apps are Socrative and Kahoot!
If you are attending one of my talks about them (APAC / EOICAT) , you may want to download this quick guide to play quizzes created with these tools.
This is the PowerPoint presentation I showed at the APAC Conference in Barcelona on 19th February.

And the full talk can be watched here: https://www.youtube.com/watch?v=Qt8-GWHeRbc
Other resources, tutorials and user guides that may be of interest follow below:
My own guide on how to play Kahoot for students.
Pedagogical aspects related to Kahoot
My own short Socrative user guide for students.
A good description of what Socrative offers, especially in terms of feedback, by @EoinLenihan
Examples of Kahoot quizzes:
Kahoot in the classroom:
Some of my students playing Kahoot
A video by Derek Ford showing how to run a Kahoot with ESL students
Examples of Socrative quizzes:
Prepositions: in / on / at – Socrative Quiz Code: SOC-18534165